5. SIMEON RIDEB - October 24, 2017




Simeon lives in an apartment on Monument Avenue, and I bike to his place on a Tuesday evening before the sun goes down. Simeon has always been a bit of an enigma to me - present at every social gathering, always looking incredible and surrounded by an entourage of beautifully clad people. I've spoken to him a few times on a couple different occasions, and have admired from afar his intriguing fashion work and foray into that world - which I know little to nothing about. He lets me into his building around 5, the foyer filled with fading light, a massive mirror taking up almost one entire wall. He greets me kindly and cooly, and seems almost a little nervous, adjusting his clothing, smiling and speaking softly.







We walk through a white door that opens up onto his apartment, tucked back a little from the main entrance. We walk through his quaint living room - a chandelier hangs from the high ceiling, a large number of mirrors pepper the walls. A floral love seat and several wicker chairs huddle around a mirrored coffee table, haloed in deep blue light falling from a large bay window. He takes me back to his bedroom, which faces out onto Monument so that it catches the last of the sunlight. It's sparsely but tastefully decorated. Each item looks purposeful and meaningful. A record player sits on a woven striped rug on the floor beside an old photo in an oval frame and a softly glowing Himalayan salt lamp.







Simeon sits down on his bed while I photograph the space and begin to ask him a few questions. He tells me how he is originally from Chesapeake, a fairly large port city near the North Carolina-Virginia state line. He explains how, while Chesapeake is a place that will always "hold a lot of nostalgia," he says that in some ways, it held him back and isolated him, hindering him from figuring out who he was and what he was capable of. When a family friend from Richmond told Simeon that he'd fit in well here, he visited a few times, and decided to study fashion merchandising and design at VCU. Richmond seemed to be a good in-between spot, a "medium city," as he describes it.

"New York is really the only place to get stuff done, but I only lightly entertained the idea of going to school there after graduating high school," Simeon says. He tells me that he couldn't fathom how he would get there, and really disliked the city after his first few visits. "I swore I'd never move to the city," he explains, smiling and shaking his head a little, "and probably would've blown up due to overstimulation if I'd gone there straight out of high school."







He explains how being in Richmond helped him process a lot of things, and introduced him to a new group of like-minded friends and artists. He says that by his sophomore year of college, he was "really, really social" and would go out constantly, talking with new people and making new connections. After a more recent trip to New York to visit friends, Simeon tells me: "I felt so inspired that I knew I had to do something." He explains how at the time, he was "doing a lot of talking, instead of producing work." He felt slightly hindered by the fashion merchandising curriculum - bogged down by dense math classes and unable to take classes that inspired him or let him carry out his creative endeavors. On the bus ride back to Richmond, Simeon realized that he didn't have to wait around for the senior fashion show to produce his own work, but could put together a show and a line all on his own. In that moment, he says, the concept for his clothing line, Open Forum, began to take shape.







Simeon reaches beside him while he talks and pulls a brush out of a small tote bag, beginning to brush out his auburn-colored, wiry hair. It frames his face, reaching out horizontally from his lightly freckled cheeks. He looks out the window, at a couple walking by on the sidewalk outside, continuing to speak about Open Forum. "I wanted to create a fashion brand in which artistic collaborative efforts are sourced and treasured," he says. He tells me that he really admires the work of brands that are seeking out artists and designers based on the quality of their work, and making it this "really cohesive thing."

Simeon wanted to involve the creative efforts of his friends and his peers, and design clothing with people whose work he really respects, who have "similar visual leanings and ways of thinking." He tells me how, on that Chinatown bus ride home from New York, he used Instagram to reach out to about 50 people whose work made him "feel some type of way," trying to vaguely describe and shape his ideas in a short direct message. Although Simeon hadn't completely solidified his intent for the project, he says that a lot of people responded very positively and were excited about working alongside him to help shape it.







He throws out some names of a few people I recognize or follow on social media, explaining how each of them contributed their abilities and their vision to the final product. "I got a few photographers to shoot the campaign and document the show, painters and screen printers to help print the Open Forum logo and designs on some of the pieces, a sculptor to work on the show's floor design, as well as assemblage artists and graphic designers to design posters and a video piece," he says. Simeon explains how he "gave 100% artistic control" to each one of them, which they were initially hesitant about, feeling blocked by the assumption that they needed to create something for him. The final product was "really strong - really good," Simeon says, and I can see the pride on his face. He was able to bring so many different types of artists together on one project, successfully and cohesively, each of them putting their own work forward, staying true to their individual artistic leanings.







I attended the recent show for Open Forum, which took place in the lower level of a parking deck in downtown Richmond. Friends and peers huddled together on a balmy August night, industrial floodlights filling the space with harsh, white light, while Simeon's collaborative efforts marched across the concrete, many of them barefoot, trailing veils, holding armfuls of white tulle, with shirtsleeves so long they almost brushed the ground. Simeon's designs are thought-provoking and starkly interesting, meshing the styles of several different artists together, working to form a cohesive whole. It was exciting and beautiful, a visceral moment - a young community gathering together in support of their peers and fellow artists. Simeon was beaming, slightly frazzled at the coordination of it all, but looking immensely proud and overjoyed at the turnout as he floated through the crowd to deliver his thanks after the show.







Pale white light continues to filter into the room as we talk, the wide avenue visible through the blinds. I move around the space taking photographs, capturing his pensive reflection in a large mirror that's leaned up against the windowsill, a green leafy plant set up below a bright red letterman sweater embroidered with the words BABY GIRL that hangs on the wall, a collection of canvas backpacks and a wicker basket full of textbooks huddled together on the hearth of a non-functioning fireplace. Simeon answers my questions slowly and deliberately, seeming to pick each word with care, waiting until I've finished scribbling down some notes before he begins to speak again.

I ask him about how he first got interested in fashion, and he tells me that it's something he's always been interested in - he recounts memories he has sitting on the school bus, drawing sketches of designs in his composition book - although it didn't become "real" for him until high school. "I began to watch every fashion show I could, working to commit them to memory, and figuring out what clothing I liked and what I didn't," he says. Simeon tells me that his design process now sometimes involves drawing his designs out, while other times his final product will form out of mistakes that he's made while sewing. He tells me that he's found himself often "liking mistakes, and rolling with that spontaneous energy." Recently though, he tells me, he's been feeling more "refined," explaining that he's been taking what he knows and using that knowledge to make his work more professional.

"My personal style has recently changed dramatically," he says, describing it as a cross between "french countryside, also a pilgrim, also a cowboy, also a little bit of something else." It's important to Simeon to make a conscious effort to avoid waste and invest in quality clothing, which results in him sourcing most of his clothing from thrift stores or independent designers. He also tells me that most of his outfits are dictated by what clothes are sprawled out on his floor, realizing that two pieces would be really strong together simply by proximity. "It's almost too telling of my nature because most things I do are like that," he says.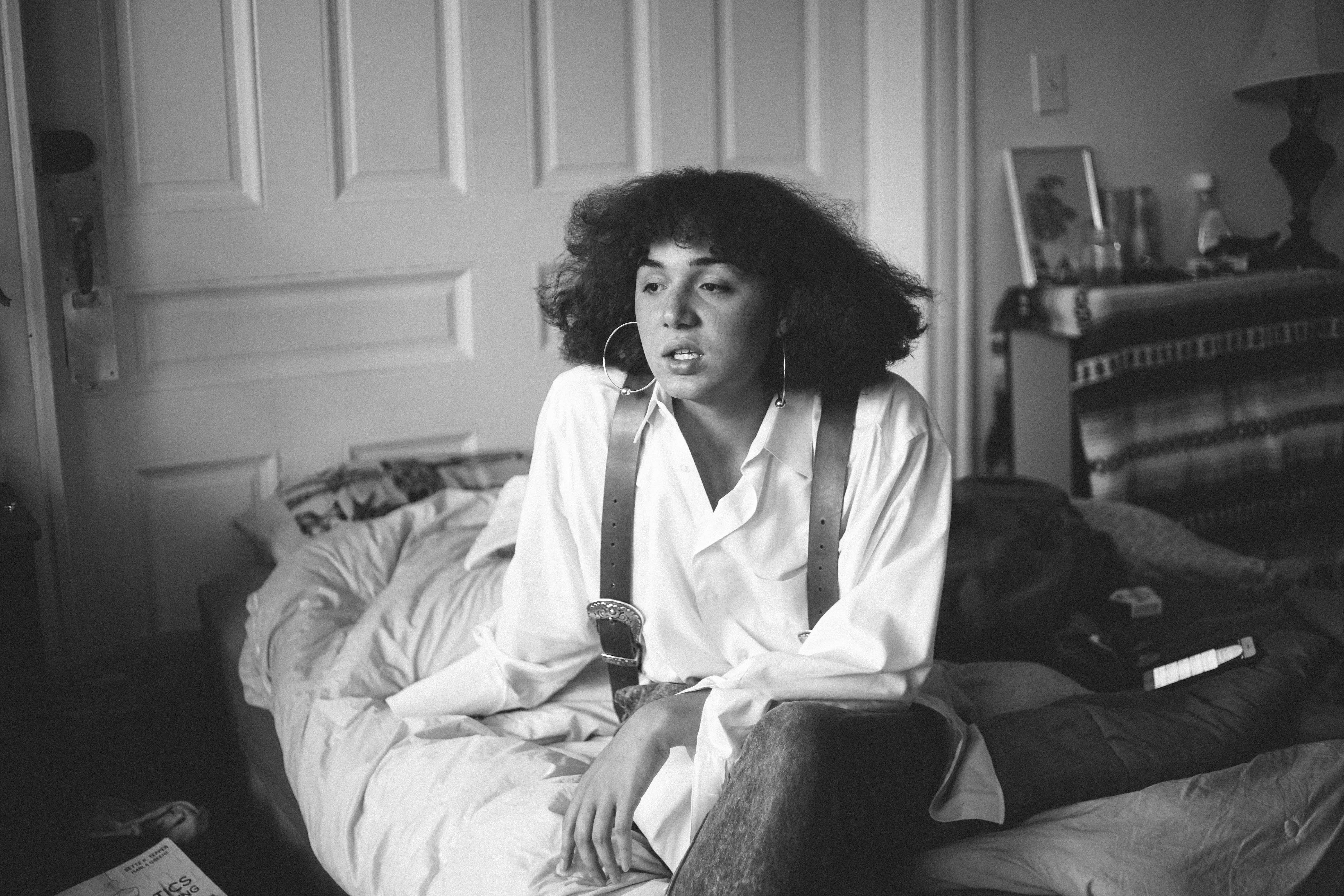 We walk back out into the living room, where the natural light is much less direct, and everything is bathed in faded yellow tungsten light from the solitary wrought-gold chandelier. I take a couple shots of him below the light, which reflects in his hair and shadows his face, and a few of his reflection in various mirrors around the room. We sit down across the mirrored coffee table from each other, and I ask him about his inspirations and his aspirations while he toys with his long, white shirtsleeves, and looks down at his roommate's small black cat, prowling slowly across the carpet.

He cites Balenciaga and Vetements as his main sources of inspiration - particularly the work of Demna Gvasalia, who works as the creative director for the former, and head designer for the latter. "Balenciaga reinvisioned what we think of as 'pretty' fashion," Simeon tells me, explaining their aesthetic as something akin to "a high fashion version of ugly everyday clothing." He sees himself doing something along the lines of Gvasalia, working with big names, doing some big campaigns, eventually working as a creative director, or designer for his own brand. He hopes that his background in merchandising will be beneficial in terms of securing a steady job, and that he can use that leverage to work his way up to more exciting things.







I ask him what his plans are, his next steps after his recent work with Open Forum. "My process is really sporadic, and I don't do things really routinely," he explains. He works out of his apartment mainly, avoiding having to haul all his supplies out to the VCU studio in order to work. He tells me how he generally tends to "stop and start" as he feels inspired, unless he is caught up in a project, as he did when he was working more seriously on pieces for the Open Forum show, which he describes as "a great vomit of everything I had ever wanted to do with a show," laughing a little to himself as he says this. Going forward, he tells me that he's halted work for the moment, explaining, "I'm not stuck, I'm just trying to evaluate what kind of clothing I want to make - how to make it classic." Simeon tells me how he's started designing a few things, but hasn't really put anything into motion - "I'm taking the time to think respectfully and conceptually, and to really work to make the pieces meaningful and make work that means something to me."


The sun has all but set as I begin to pack up my belongings and say goodbye. He gives me a quick hug and a small smile as he shuts the door behind me, orange light from Monument glowing through the huge foyer, lighting up the quiet atmosphere as I make my leave and ride my bike home across the cobblestones.




→ go to the next one
---