6. ADELE BALL & AVA LONERGAN - December 10, 2017



It is a cold and bright Sunday morning, a few days after our first snowfall of the season, when I make my way across town to Adele and Ava's studio and gallery space. They operate out of a space called Corner Office, situated on Broad Street on the fringes of Scott's Addition where they hold artist exhibitions and community events, geared toward emerging and underrepresented artists. It is the first sunny morning we've had in a few days, and the gated facade of the building is lit up and directly exposed, creating these deep blue shadows in the tiled foyer that lies just beyond two grey iron gates. I head up two flights of stairs to their space, and Ava opens the door to greet me.

I've met her once or twice before - she is tall and slender, with soft green eyes that smile at me, and closely cropped, light brown hair. Adele stands a little behind Ava in the center of the well-lit space, dressed entirely in red, dark wiry hair separated into two short braids. A pup comes bounding clumsily toward me, a young Australian shepherd mix of some sort. Adele tells me that her name is Banshee, and that she just recently adopted her from RAC several months prior. Banshee is sweet and energetic, lolling around on the wood floors, sniffing me excitedly. As soon as we've said our hellos, I am dragging them outside to take a few photos in front of the building before the sun moves at all. We've just met moments ago, and they shift a little uncomfortably in front of the camera at first, squinting into the too-bright sun, trying to humor me in the cold air before we head back indoors.







Once inside, we start to settle in and Ava offers to brew some tea, disappearing down the hall for a few minutes while Adele and I get acquainted. Corner Office is one large room, set in a somewhat nondescript office building. The wood-paneled walls have been painted white and several windows send soft light streaming in. Artwork peppers the wall space, and colorful, neon posters from their past shows are taped up neatly in one corner. Two large drafting tables sit on either end of the large room, each housing heaps of art supplies and piles of fabric on low shelves below the tabletops.







I ask Adele how they found this spot, and she tells me about the couple who owns the building who are friends of hers, and who use the entire lower level to produce their brand of motorcycle jeans for women. The building co-owner, Laura, is the founder of the jean company, Worse for Wear, and is a member of an all-women motorcycle gang along with Adele. "So much of motorcycle gear designed for women is over-fetishized - pink camo, leather, fringe," Adele explains. "Worse for Wear's jeans are styled to look like regular jeans, so that when you get off your bike, you'll look like a normal person, and not a space walker." Adele tells me how she works downstairs with Laura occasionally - "She's a little like my art fairy godmother," she says, smiling. Adele sits comfortably on the floor with the pup, Banshee lying on her back in her clumsy puppy way, content to be given belly rubs, to be cradled and held.







Ava returns with a dark green ceramic tea pot and a few mugs of hot tea, placing them on the tabletop closest to the door and taking a seat on the stool beside it. We gather around the desk and I ask each of them in turn where they are from, how they ended up in Richmond, how they became friends. The stories are long and end up in different directions, the conversation winding different ways for a while before all the scraps collect.






Adele tells me how she grew up in northern Virginia in the suburbs, but went across the country after high school to attend Scripps College, an all-women's liberal arts school 30 miles east of L.A. She explains that Scripps provided her with "a badass education," as she was able to enroll in classes that were tailored to bring a feminist and intersectional slant to everything she learned. She and her peers studied works written by female authors and historical figures in each of their classes, which provided access to varied perspectives and voices.

Adele ultimately returned to Virginia almost immediately after getting her undergraduate degree, explaining: "I had such formative experiences there, but it was a also very dark experience for me and a place that amplified a lot of my insecurities about being an artist and a woman." She also explains that Claremont felt like its own little satellite in San Bernardino and that she really didn't have any resources there. Adele lived in Charlottesville for a while, working as a designer in a sign shop. She got to work with these giant printers and get good experience with the industrial printing process, but ultimately her work became "soul-sucking," and she found that the lack of art opportunities in Charlottesville was "stagnating in a lot of ways." Adele decided to apply for graduate school at VCU, making the migration to Richmond in 2014.







"I didn't think about it that much at the time, but I wish I'd gone to grad school with a project," Adele says. She tells me how in grad school, she created and wrote about a fictional motorcycle girl gang, explaining this backstory as a sort of thematic "aquifer" - a driving force that runs beneath everything she makes. Adele tells me that her time at VCU helped to focus her interests and helped her grow, but that the transition back to life without school was slightly shocking and strange.

She studied graphic design and visual communications in graduate school, but has shifted more recently into working with textiles, assemblage art, drawing, and writing. I ask her how she got into textile work and she explains, "I was drawn to it for color and material reasons, and I decided I wanted to start making functional objects." After graduating, Adele says it was hard to reconcile the loss of the traditional school structure with the desire to continue producing art: "How do I make work now - without my studio and without that community of artists?" This lack of immediate direction and community was the primary catalyst for Corner Office, although Adele tells me that at least initially, it "seemed like a pipe dream."







Ava explains that a little over a year ago, she texted Adele about her desire to create a "gallery space/studio space/dance hall" and Adele responded that she'd been thinking the exact same thing. "I was going to look at a space the following day," Adele says, "and I asked Ava if she wanted to come with." The place used to be an architecture office and and was referred to by the building owners as "the corner office." "We saw the room, and it was a corner office, and the name kinda just stuck," Ava explains. She tells me how the corporate rhetoric is a bit ironic, especially in light of what they're trying to accomplish. "There aren't as many professional channels for women, femme, and gender non-conforming artists to show their work," Adele says. Ava and Adele wanted to create a space for those artists who are traditionally underrepresented, with emphasis on their process - their works in progress, their drafts.







After a lot of renovation and painting and re-scheduling and postponing, they had their first show in late March of 2017 - a group show with 8 artists, entitled "less heady conversations." It was before Adele and Ava had moved any of their belongings in, and the space was freshly painted and empty, perfect for displaying work. Now, Ava says, with all of their furniture moved in, "things get interesting." They've built everything on wheels, so that the large drafting tables can be pushed to the edges or the center of the room as needed. "This isn't necessarily the best space in Richmond to show finished product." Ava says. "We explain to our artists that our aim is to show works in progress, sketches, ideations."

Before starting Corner Office, Adele and Ava both felt frustrated with the lack of access to the creative process. Gallery spaces began to feel like these "inaccessible, white cubes," Ava explains. "So often you see finished work, without getting into the process of insecurities or the deep self-doubt that artists so often experience." Ava and Adele were intent on creating a community space to foster artist engagement and encouragement, hosting drawing nights and monthly film screening as well as exhibitions.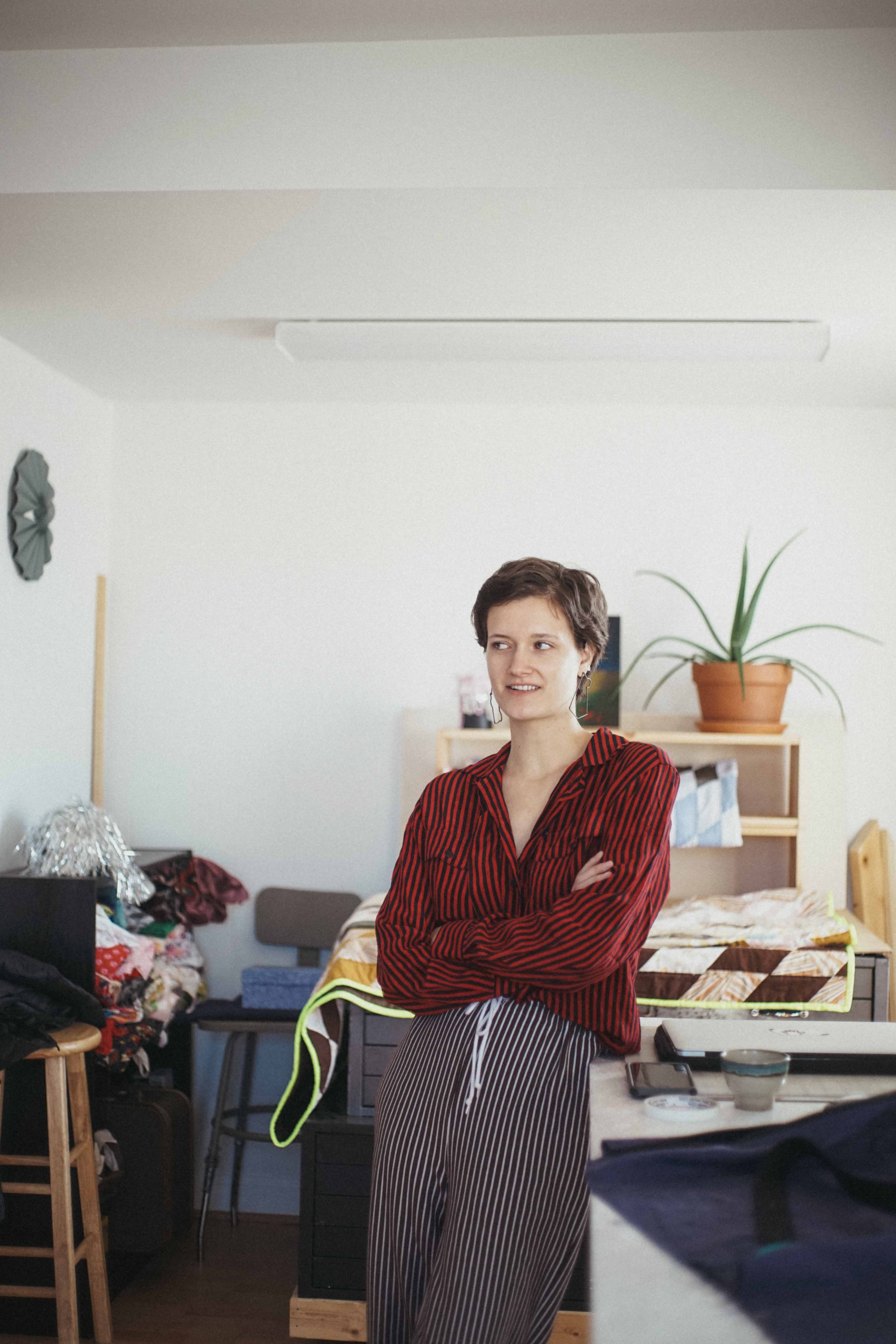 I get up and walk around the room while they continue to talk, snap a few photos of the art on the walls - Adele's large, quilted textile piece, a postcard-sized collage piece, a sheet of printer paper with the words "t shirt ideas" at the top, the first one being "pussy builds strong bones." Atop Adele's desk sits a grey sewing machine, a stack of magazines, a few jars of paintbrushes and colored markers, and a dark purple jacket-looking object, a bright turquoise zipper running down its center, still not sewn together but waiting patiently to be. Ava's work desk showcases a few of her smaller acrylic works on oak panels, leaned up against the white walls, bright colors and female bodies portrayed strongly and unabashedly. Beside them sit a few pencil cases, a small black notebook, and a large book: 30,000 Years of Art. Banshee comes over to me, pawing my shins, playfully nipping at the sleeves of my sweater. I sit cross-legged on the floor, gathering her soft warm body into my lap.







I ask the two of them how they met, and they explain that they were in similar social circles, that Adele was good friends with a few of Ava's roommates at the time. Ava tells me that she moved to Richmond in June of 2016 after graduating from UVA. She explains that, "as a non-VCU person, I was finding it challenging to navigate the art scene. Corner Office was a way for me to make connections and reach out to artists I admire, and to find them a platform for their work." Ava tells me that she studied photography at UVA, but has recently delved into painting. She says that she loved photographing people, capturing that "essential human essence and human connection," but explains that her shyness made it difficult at times for her to arrange people how she wanted, to ask them to move or pose or carry out what she envisioned. "With painting," she says, smiling, "there's no human contact necessary!"

She ruminates on her obsession with the color quality of paint, its "luminescence." Drawing and painting used to frustrate Ava, but she tells me, "I got to this point where I was finally able to not take myself too seriously. I loosened my grip, and could have fun with it." Ava explains that photography was initially perfect for her, telling me how the process and the technical aspects catered well to her type-A personality. Adele laughs a little bit as she says, "I love that you're that way - we balance each other out perfectly!" Adele goes on to explain how fun it is to travel together, Ava planning out every little detail of the trip so everything goes exactly as planned. "But I'm ok with making changes, I like spontaneity too!" Ava says, laughing almost a little defensively.







After about a year and a half in Richmond, Ava tells me that the job prospects here feel a bit lacking, and that she may set her sights elsewhere, either to further her education or find better employment. "I'd like to get a library job," Ava tells me. "I grew up in libraries. I think they're magical places." Ava explains how she lived with her parents on the campus of an all-boys boarding school growing up, where her mom still works in the school library and her dad as the art teacher there. She emphasizes the importance of having access to resources and information, which she says is "crucial, especially in this day and age." She lists off a couple of library science programs - there's one in Illinois, as well as an interesting dual-degree program between Long Island University and NYU. Her eyes light up a little while she talks, telling me about arts librarianship, how she'd love to archive, understand, and catalog arts research resources.







They both lean on either side of Adele's drafting table, framed in light from the two windows behind them. Adele tells me how she's relied heavily on luck for the past 3 years in terms of employment - "the odds were in my favor," she says. She's been working at the Storefront for Community Design, teaching classes and volunteering at their Middle of Broad studio space, as well as helping out at Worse for Wear. She seems content where she is, but when we get on the discussion of residencies, she begins talking a little faster, firing off one idea after the other, telling me about a roaming residency called Cabin Time, one in Nebraska called Art Farm, and one that's held in Joshua Tree and run by Andrea Zittel, where each artist inhabits their own self-contained, minimalist pods, with single beds and cantilevered tops, set out in the isolation of the Mojave Desert.








Both Adele and Ava seem to have their sights set outwards, and they explain, "Corner Office might not always exist in this space." They tell me that they want to continue doing studio visits, interviewing artists, and featuring their work and creative process on their website, rather than focusing on the physical exhibition of art. Ava tells me that Corner Office's next goal is to produce a publication, a catalog of their first year of shows and featured artists. "We want to introduce this new phase of Corner Office," Adele explains, "which won't be as much about exhibiting work, but more about connecting with people and providing this service for a niche group of diverse artists."







I ask both of them to sit on one of the stools in the center of the space, where all of the sunlight seems to pool and collect, and I photograph them individually. We continue to talk and Banshee, exhausted, sprawls out on the warm wooden floor. We talk about writing, we toss around our favorite authors and Instagram accounts, talking about recent road trips and tattoo artists. They mention their love of romance and the lack of it in Richmond, the lack of opportunity in the art world and the importance of making your own. Ava talks about revamping her website - adding some of her fiction work and creating a video project to replace her written bio. Adele hovers over her quilt, picking loose threads from its seams as she adds in to the conversation. They are quick and intelligent, warm and honest, they welcome me into their creative hub so easily. Corner Office seems to be creating this unique life for itself, standing in an important and often unoccupied space for young, emerging artists who haven't had many opportunities to show their work - and Adele and Ava stand at its forefront, opening the door and letting the light in.




→ go to the next one
---